S2K Commerce - Products Dropdown
Actions

S2K Commerce - Shopping Cart
Actions
Resources
Lab Product Links & Literature
Three Tips to Buy the Right Water Bath or Dry Bath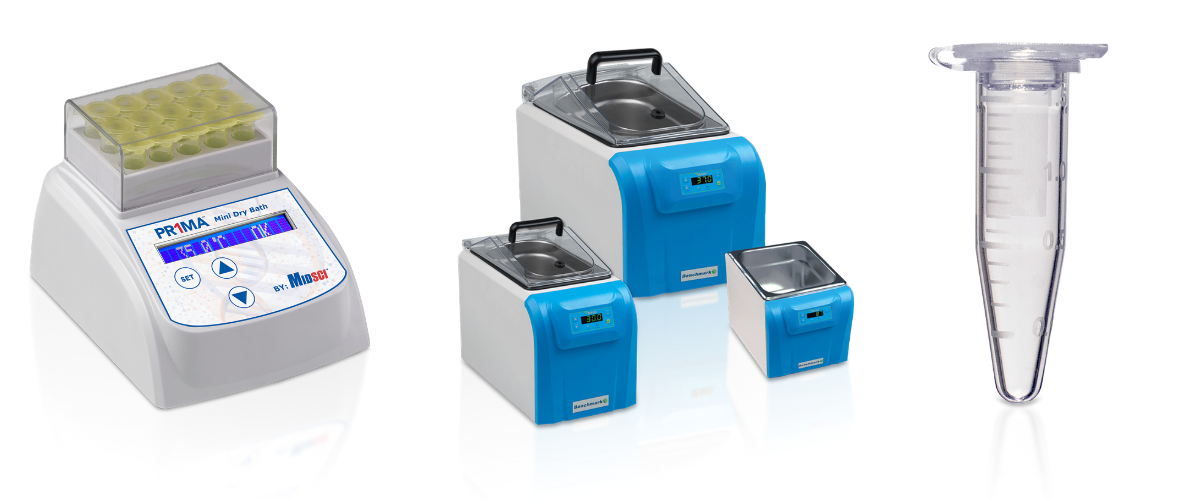 Do you have a bathing issue? This is not referring to personal hygiene, but rather the dry baths and water baths in your lab or research facility. Both products have unique features which may leave you feeling uncertain which option is best for your needs.
Water baths are available in a variety of volume capacities with differing temperature ranges and power specifications. Similarly, the capacity of dry baths (also referred to as dry block heaters) determines the number of tubes which can be placed inside. If you do not know exactly what you are looking for, the choices can be overwhelming.

The quality of your research hinges on buying the right product for your application. Below, we have identified common issues with dry baths and water baths along with tips to purchase the appropriate equipment.
Common Operating Issues with Dry Baths and Water Baths
Many of our customers experience these issues while heating samples:
Problem #1: Overbuying. Lots of labs overbuy — for example, purchasing a 20 L water bath just to heat up one 500 mL media bottle, or buying four separate dry baths instead of one dry bath with four blocks. For the record, there are situations where separate dry baths may be the best solution, but this is not always the case!


Problem #2: Drowning Samples. It is never a good sign when your sample is floating on its side. There are several weights, racks and floating devices to prevent this from happening. Don't know where to find them?

Call us

.


Problem #3: Tubes Popping. If you are having test tubes pop open, consider purchasing a better product. The PR1MA

(PR-MCT15) tubes

are designed not to open when boiling. You should also consider if you are putting too much liquid in the tube, because solids, liquids and gases expand when heated. If all else fails, there are weights, locks and other materials to hold the lids in place.
Do I Need a Dry Bath or a Water Bath for My Research?
MIDSCI offers dry baths and water baths in a wide variety of sizes, with features such as heating, cooling, shaking and circulating and all the accessories to go with it. Below are a few exercises which will help you save money and space in the lab as you are evaluating these options.
First, make a list of what you are going to put in the bath and how many of each item will be utilized at once. It may even be helpful to lay out your supplies on the bench to visualize how much space you will need. For instance, you will not need a 4-block dry bath if you never heat up more than 12 tubes at once.
Next you should consider whether it would be best to have multiple smaller units or one large unit. We typically recommend the PR1MA Mini Digital Dry Bath for this reason. It fits 15 x 1.5 mL tubes and is a little larger than a pipette tip box — so everyone in the lab can have their own dry bath, instead of being saddled with one big unit that gets limited use (or staff is waiting in line for their turn). If you need to run 60 tubes at once, just daisy chain four of these units together and you are off to the races.
One final thing to consider is the temperature or temperature range you will need to reach. The impact of temperature can be quite significant to your research and should not be overlooked during the process of buying a dry bath or water bath.
If at any time you need help, please do not hesitate to contact us. We will be glad to help you find the right equipment!
Find Industry Leading Lab Equipment at MIDSCI
At MIDSCI, our goal is to make shopping for lab equipment as easy as possible. Our phones are answered by REAL people to help provide the information you need to feel confident in your purchase. MIDSCI offers a variety of equipment and scientific research supplies from the industry's most trusted and respected brands. And we are always available to help troubleshoot any operating issues you may be experiencing with your current dry bath or water bath solution.

Find out why MIDSCI is a leading consultative partner for scientific researchers everywhere. If you are interested in new shakers, rockers, or other MIDSCI products for your lab, contact us today for a sample!
Call us toll-free at 1 (800) 227-9997, submit a request online or send an email to tech@midsci.com.