S2K Commerce - Products Dropdown
Actions

S2K Commerce - Shopping Cart
Actions
Resources
Lab Product Links & Literature
Pipette Care and Maintenance in 6 Steps
Pipettes are perhaps the most basic and essential piece of laboratory equipment for liquid handling. In simple terms, a well-calibrated, working set of pipettors is as important to a scientist as a calculator is to an accountant, or a socket set to a mechanic. This trusty lab tool has also been around since the 1700s.
In its earliest form, a pipette did not have the bulb or pump system we are familiar with today — instead, liquids were sucked into the tool by mouth. This was exactly as dangerous and prone to contamination as it sounds! The modern pipette or pipet consists of these key components:
Pipette: The actual liquid transferring instrument
Pipettor: An aid to help draw liquids into the pipette (typically a bulb or pump)
Pipette tip: A disposable, usually plastic insert on the end of the pipette
Note that "pipette" and "pipettor" are used somewhat synonymously.
With these terms in mind, take a look at our suggestions to help keep your pipettors in the best possible shape. These tips (pun intended) can lengthen the life of your pipettor and help improve accuracy and precision when your pipette is not working reliably.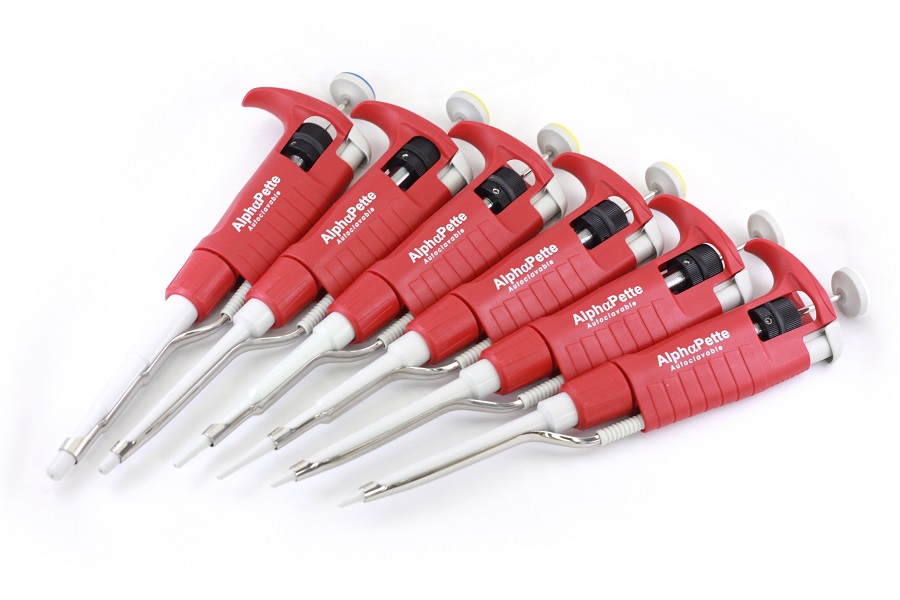 How Do You Care for a Pipette? Six Pipette Maintenance Tips:
1. Calibrate On a Regular Basis
Your pipettor should be calibrated once a year at minimum. Clinical and GLP labs will have protocols for pipette calibration every 3 to 6 months.

If you use a calibration service, use a company who will be around tomorrow. Vendors often take short cuts to do this quickly, but in 30 days, your pipettors will no longer be calibrated. If you are going to DIY and wondering how to calibrate a pipette properly, try watching a video or reading a tutorial. While it is not the hardest thing you will do in a week, the process involves some intricate details.

2. Get a Pipette Rack
If you are debating whether to buy a pipette rack or continue laying them on the bench, there are three key benefits to using a pipette holder and pipette tip racks:
Your pipette is better protected from being knocked onto the floor and broken.
The pipette is more secure on a pipette carousel, and less likely to be lost or stolen.
Last and perhaps most importantly, hanging a pipette vertically from a pipette stand lowers the aerosols, contaminants and liquids that stay in the barrel and destroy your work — and ruin your pipettor.

3. Use Colors to Limit Cross-Contamination
Visual cues can help limit cross-contamination resulting from simple or careless mistakes. The AlphaPette product line is red, so the pipettors stick out. Buy one set for radioactive work, the cold room, the cell culture room or your own work. Whenever you see a red pipettor in a location where it shouldn't be, you will quickly know it needs to be cleaned.

4. Choose an Autoclavable Option
Many pipettes are fully autoclavable and do not need to be disassembled before being placed in an autoclave for sterilization. However, not all units have this feature. An autoclavable pipette will save you time and headaches!

Remember to read about the autoclave process for the pipette you are considering before making a purchase. There is nothing worse than finding out the unit you purchased is only sort of autoclavable.

Read the AlphaPette manual here.

5. Buy Quality Pipette Tips
Buying cheap pipette tips is like putting discount tires on a Porsche. Cheap tips will throw off your liquid measurements and retention — and what is the point of calibrating a pipette if the types of pipette tips you use are unreliable?

Blue- and Yellow-colored tips are the lowest quality tips anywhere. Colors were used to differentiate inventory 30 years ago. Today, colors are used to hide imperfections in the product.

One last suggestion: Use filter tips when appropriate. This will limit contamination and cut down on pipettor correction. Your pipettor will thank you!

6. Select a Reputable Brand
The phrase "buyer beware" has never been more relevant than when you are tasked with purchasing the best pipettor for your lab. As you are evaluating brands, ask yourself if the knock off, discount product company is likely to be around in the long-term. Otherwise, what happens when your pipette breaks or needs to be recalibrated?
MIDSCI: Your Trusted Partner for Pipettor Tips, Pipette Racks & More
At MIDSCI in St. Louis, our goal is to simplify the process of shopping for lab equipment and liquid handling tools, including pipettes and micropipettes. We encourage all of our customers to call us with questions because our phones are answered by REAL people. And our team is always available to help troubleshoot any issues you may be having with your current pipettor or other liquid handling research equipment. Our company also offers a calibration service for pipettors you can fully depend on.
MIDSCI is so proud of its AlphaPettes that these units have a lifetime warranty which includes everything except calibration or misuse. Read more about the accuracy and precision of AlphaPettes compared to other top brands.
Find out why MIDSCI is a leading consultative partner for scientific researchers everywhere. If you are interested in new pipettors, great pipette tips or other MIDSCI products for your lab, contact us today for a sample!
Call us toll-free at 1 (800) 227-9997, submit a request online or send an email to tech@midsci.com.